Departments
The departments are well staffed with experienced and dedicated teachers. Lectures, practical's, demonstrations and clinics are well planned and conducted round the year according to the time table.

The teaching staff is appointed by Bharati Vidyapeeth Deemed University through proper selection by a staff selection Board conducted periodically. All the departments are staffed by qualified faculty members who are recognized teachers of University and fulfills the requirements of UGC/DCI.
Total Number of Departments Medical Science
Department of General Anatomy, Histology, & Embryology
Department of Physiology & Biochemistry
Department of Pharmacology
Department of Pathology & Microbiology
Department of General Surgery
Department of General Medicine
Dental Science
Medical Science Departments
Anatomy
This department performs the difficult task of introducing the fresh undergraduate students into the complex anatomy and structure of the human body, through lectures, tutorials, practical experiments, dissections and use of museum facilities. The anatomy museum has a large collection of specimens of osteology, gross anatomy and embryology.
Pharmacology
The department trains the undergraduate students in the basic principle governing the use of drugs, thus allowing a rational understanding of the major medication used in dentistry
Surgery
Department of surgery and the allied specialized branches educate our students in these special subjects as it is an essential academic aspect of the dental curriculum. The students are trained at the NMMC hospital, Vashi where 100 beds are reserved for our Dental students. Our teachers regularly visit the hospital and conduct clinical classes in the hospital with variety of patients available for study.
Medicine
The Department of Medicine imparts theoretical knowledge and clinical training to undergraduate students to make them proficient in diagnosis, treatment planning as well as patient care which is mandatory for our dental students. All the students are trained at NMMC general hospital, Vashi,Navi Mumbai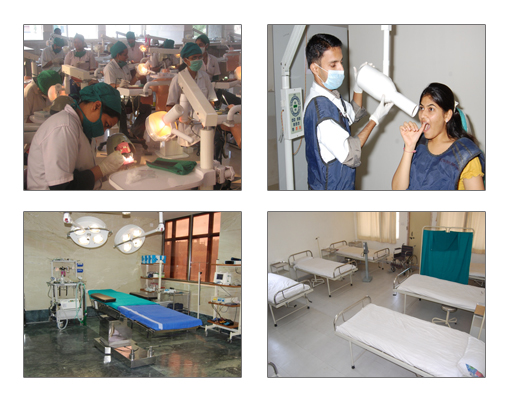 Faculty