Principal's Message
Dear Students,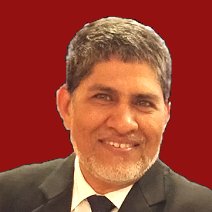 It is my privilege to welcome you into our family at Bharati Vidyapeeth Deemed University Dental College & Hospital (BVPDUDC & H), Navi Mumbai. Ours is a premier dental institution in existence since 2004. We are situated at a scenic, conveniently located sprawling campus that allows easy travel by local trains and road. Our institution is well equipped, has excellent quantity of clinical material (number of patients) and superb staff to learn the needed skills from.
Forty five years ago, when I entered as a dental student in an era when the science was finding its feet in India, Dentistry was primarily a pain relieving science. Today, I am privileged to see Dentistry transformed into a personality building science. It commands immense social respect and makes a great career that supports a good life-style without compromising family life. Post-graduation, which we offer in all important branches,allows specialized practice and makes things even better in every sense of the word!
Attractive and pleasing personalities often find success more easily owe a lot to possessing a beautiful smile through having 'even', well aligned, healthy teeth and their supporting gums, bones and joints. Some of us are not blessed by The Almighty in having such natural gifts. Even they can be helped by modern dentistry to have a nice smile and hence a good personality through a scientific restructuring of all the needed tissues.
For learning such skills, students need to be well versed with the theoretical principles. With it, they need to learn from experts in all branches of dentistry the needed dexterity of proper hand-eye-coordination while using contemporary technology and procedures of imparting treatment. This permits to treat patients with a 'soft' hand. Also needed to acquire is the ability to treat with a caring and humane manner and an approach to understand value for time, effort and money spent by the patient.Our institution is well equipped and has expert, highly experienced and compassionate staff in all specialities to make students learn all of the aforementioned and turn them into well trained, skilled, confident and gentle Dentists.
Together, we: the students, their parents and our staff as well as our highly supportive and progressive management can embark on a new fruitful relationship.
On behalf of the entire fraternity of Bharati Vidyapeeth Deemed University and 'Team BVPDUDC & H', I extend you a warm welcome into the exciting world of Dentistry that promises a wonderful, fulfilling career.
Dr. Girish Karandikar
Principal