Principal's Message
Dear Students,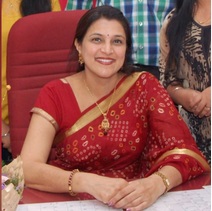 Hearty welcome to you in Bharati Vidyapeeth Deemed University a splendid Temple of Learning. I am happy to learn about your keenness for joining our college of dentistry Navi-Mumbai You are entering in to the arena of higher education when the future is full of opportunities and promises
Established in 2005, the institution has developed into a premier Institute of Dentistry. Easily accessible to patients from all corners of the city and neighboring areas, the patients' inflow into our hospital is excellent, reaching to about 100 -120 daily in addition to routine appointments. The scenic location, the ambience and excellent facilities help in attracting our students and patients from all strata of the society.
With state-of-the-art equipments, the changing demands of dental services will be adequately met by our facilities. We provide unmatched services in the cause of Dental Education, Health and Hygiene.

We at Bharati Vidyapeeth Deemed University are committed to provide you with excellent education and training in the field, which you have chosen for your study.
I am sure you are joining our institutions with your vision and dream. We are here to help you to realize them. So, let us work together and make an Endeavour to build up your career.
I wish you all the best in your future career as students of this University
Dr.Varsha Rathod
Principal